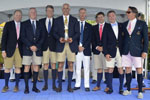 By Talbot Wilson
His Excellency, The Governor of Bermuda, George Fergusson did his duty Saturday night on the podium in front of Government House. The seasoned diplomat shook hands, shared awards and trophies, and posed for photos 114 times with skippers and crews of more than 50 yachts. Sharing duties with the Governor were Royal Bermuda Yacht Club Commodore Leatrice Oatley, Cruising Club of America Commodore Jim Binch, and the RBYC Vice-Commodore Jon Corless. The RBYC Honorary Secretary Andy Burnett-Herkes was Master of Ceremonies.
Warrior Won, an Xp41, skippered by Christopher Sheehan of Larchmont (NY) Yacht Club took the main prize, the St. David's Lighthouse Trophy. This silver replica of the island's landmark lighthouse is awarded to the boat in St. David's Lighthouse Division with the best corrected time. This division was the largest in the fleet with 110 entries.
Shearwater won the Cruiser Division's Carleton Mitchell Finisterre Trophy for first place on corrected time. She's a Mason 43 sailed by Daniel Biemesderfer from Stonington Harbor Yacht Club.
Spirit of Bermuda won the Spirit of Tradition Division against three other competitors and was awarded the War Baby Trophy. The crew of 32 and friends of Spirit accepted the prize from the Governor.