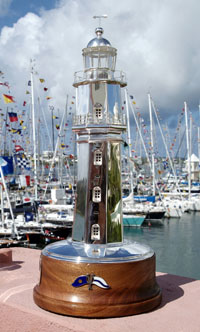 By Talbot Wilson
Dateline Newport RI: June 24, 2016— An international group of sailors and guests at the 2016 Newport Bermuda Race prize-giving will celebrate the final moments of a spectacular week after starting the 50th Thrash to the Onion Patch Friday, June 17 in Newport, RI. Of the 185 boats officially registered to race, 133 boats set out expecting be sorely tested by difficult conditions in the 635-mile Gulf stream crossing. Forecasters were wrong. 122 finished with just ten dropouts coming from equipment failures or just drifting conditions. The race actually turned out to be one of finest with a full moon and normal offshore sailing conditions.
His Excellency, The Governor of Bermuda, George Fergusson and the Commodores of the Cruising Club of America, Jim Binch, and of Commodore of Royal Bermuda Yacht Club, Leatrice Oatley, will present 114 prizes. Five are major Division trophies and the remainder are for class podium finishes and other awards. The ceremony is held on the grounds of Government House overlooking Bermuda's North shore channel.
The yacht Warrior Won, an Xp41, skippered by Christopher Sheehan of Larchmont (NY) Yacht Club took the main prize, the St David's Lighthouse Trophy. This silver replica of the islands landmark lighthouse is awarded to the boat in St. David's Lighthouse Division that is first on handicap corrected time. This division was the largest in the fleet with 110 entries.
In the second largest division, the Cruiser Division, Shearwater wins the Carleton Mitchell Finisterre Trophy for first place on corrected time. She's a Mason 43 sailed by Daniel Biemesderfer out of Stonington Harbor Yacht Club.